20.01 At 20.00
Aflyst: Mørkt Stof | Xenon Residency
Xenon, Xenon Foyer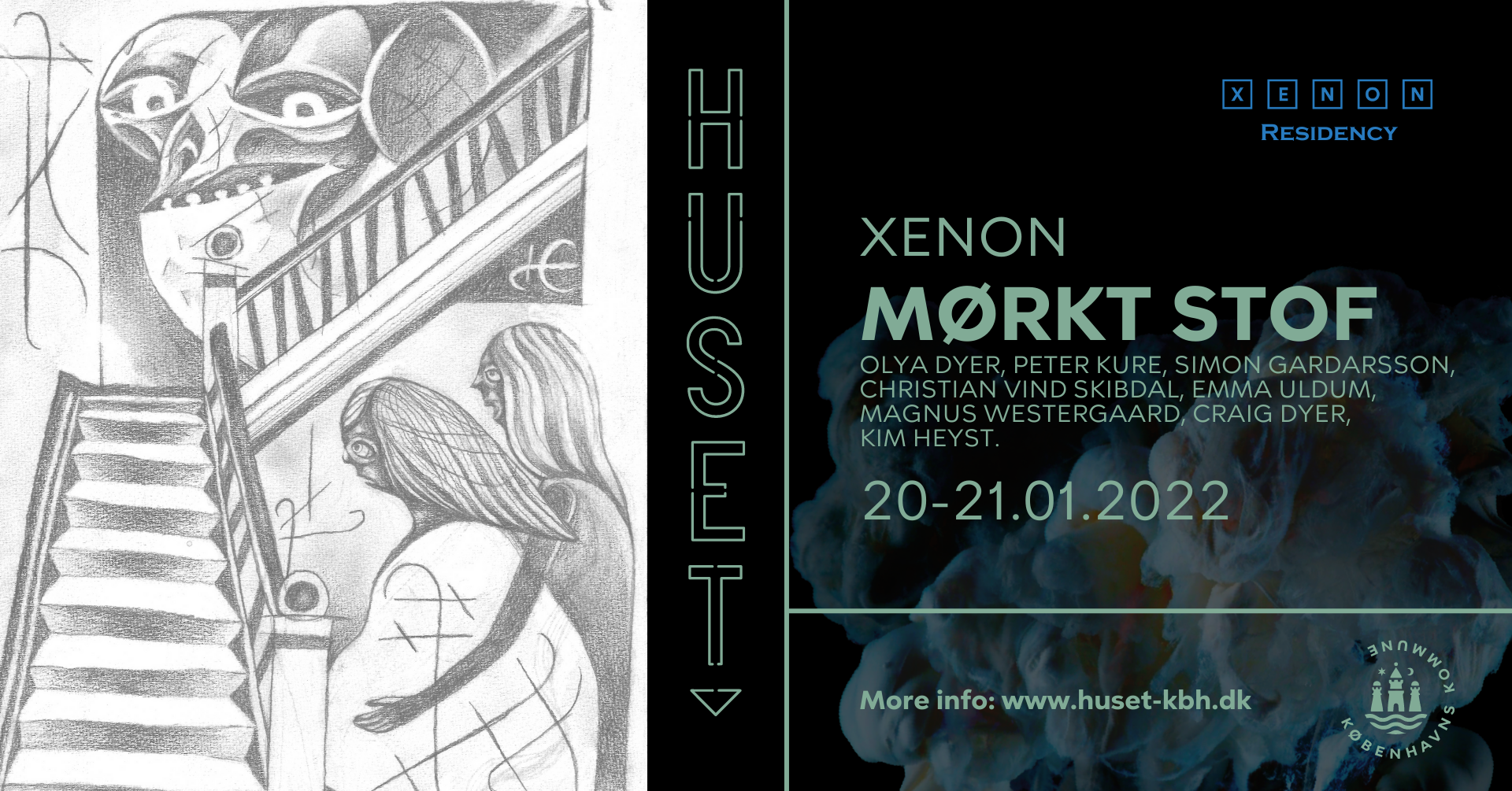 HUSET PRESENTS: MØRKT STOF | Xenon Residency @ HUSET
Everything you've ever seen, heard and felt is but a fraction of the matter that surrounds you. Dark energy binds us all together with a force that's undetectable by any scientific instrument.
MØRKT STOF examines this force through artistic experiments. Connected by darkness in many forms, artists of different expertise tap into their common source of inspiration to go on joint exploration of the unknown.
THURSDAY 20.01: Thursday we present a modular concert with Christian Vind Skibdal, live painting session with Kim Heyst and light and visual art. In addition, it is possible to experience the space and see original works.
FRIDAY 21.01: The Friday program has elements from Thursday but the experience is expanded with performance art and musical elements with Craig Dyer, Peter Kure and Magnus Westergaard.
…
Xenon Residencyis a takeover where artists and musicians are given the keys to Xenon at the 4th floor in HUSET a week before the show, to create a unique cross-artistic experience. Their residency is an opportunity to mix art installations, scenography, visuals, sound design, dance and other cultural expressions with music. In that way the purpose is to expand the possibilities of the traditional concert experience and give artists time to create performances that doesn't match the typical music production.
WE TAKE CARE OF EACH OTHER DURING CORONA
You can safely join our events and activities at Huset. We work with the following precautions during Corona.
CORONAPASPORT: Have your coronapassport-app ready on your phone or show your negative test result when you arrive at the entrance for your event.
PREVENT INFECTION: At Huset we make sure that you can safely participate in our various events, eat at our restaurant Spisehuset or visit Bastard Café. We regularly clean surfaces, we air out our venues, provide hand sanitizer and check coronapassports upon arrival.
We encourage you to follow these tips:
Stay at home if you have any symptoms and get tested
Wash hands and use hand sanitizer
Keep distance
SYMPTOMS: If you have Covid-19 symptoms or are waiting for test results, we ask you not to go to Huset, so that we can prevent further infection and ensure everyone a safe experience.
SMITTESTOP: We encourage everyone to turn on and use the app SmitteStop, which can be downloaded at smittestop.dk or via your App shop
20.01 At 21.00 / Doors At 20.00
Aflyst: Mørkt Stof | Xenon Residency
Xenon, Xenon Foyer
Admission 70kr
Presale 70kr + fee - Cancelled